ST. JAMES CHURCH
Writing in 1837 Samuel Lewis says 'there is a handsome chapel at Horeswood with a commodious house for the priest'. Horeswood old National School was originally the site of the old Horeswood Church.
St. James Church was built in 1832 by Edward Kehoe and Sons, Wexford. The building was started by Rev. Darby O'Gorman in 1826. It was a very dry summer and as the water had dried up, water had to be brought from Priesthaggard, a mile away, to mix the mortar. The next parish priest. Fr. Edmond Redmond finished the new church and had the presbytery built also.
Deceased parish priests were buried inside the church until 1857. In 1938 Edward Foran painted the three large pictures behind the altars as well as the Stations of the Cross.
When Matty Wallace renovated the church in the mid 1960's they were taken down and given to a religious order in Meath. Frito Power, a native of Tintern was parish priest during the construction work. He was appointed parish priest in 1962. Ill health forced him to retire in 1972 and he died in July 1972 at St. John of God Home in Waterford. The large timber cross in front of the church was called a Mission Cross and was erected in 1872.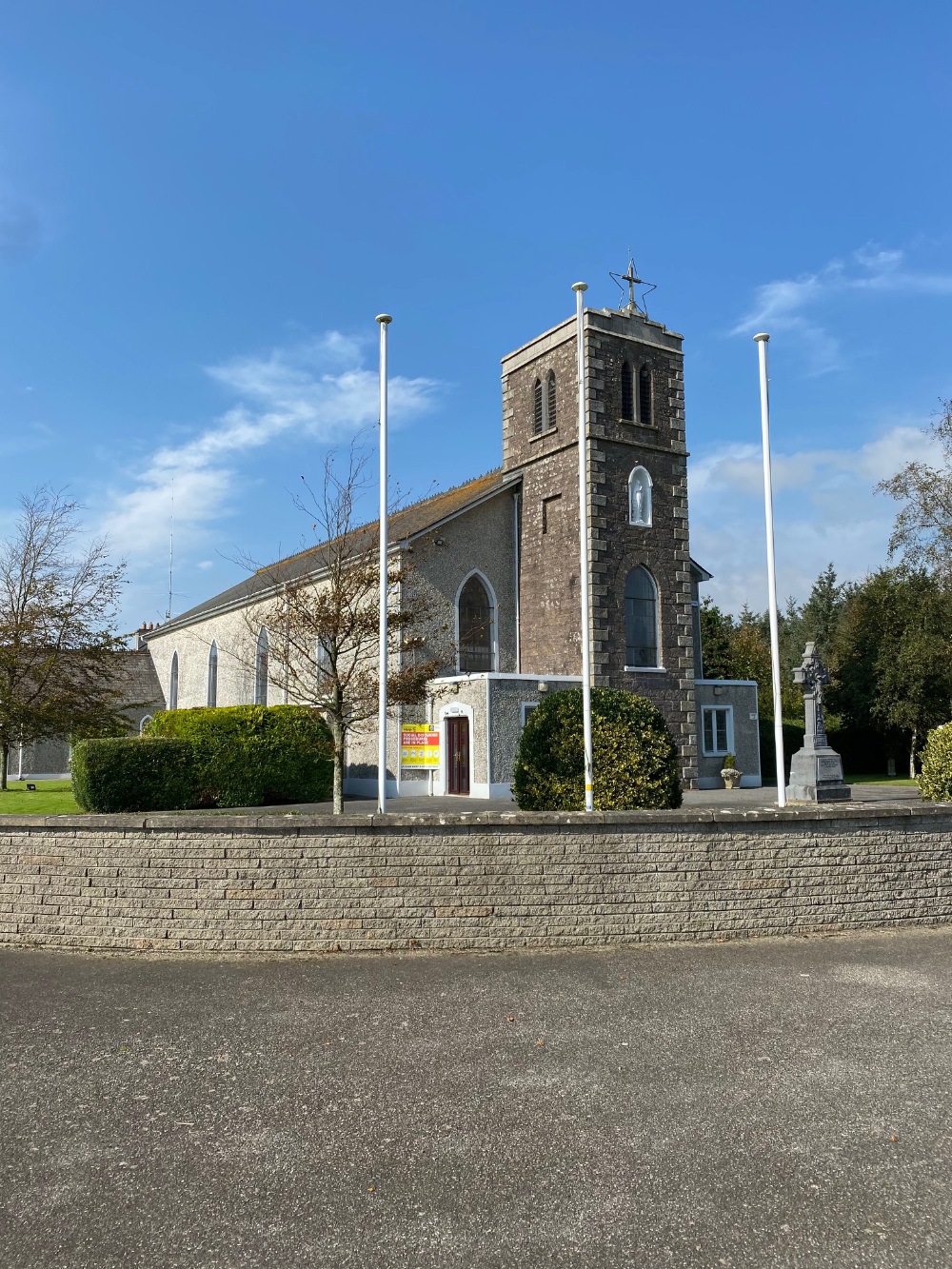 St. James Church, Horeswood (above)

BALLYKELLY CHURCH 
Ballykelly Church is dedicated to Ss Brigid & St Mary. It was built in the early 1800's. It's known as a barn type church and has a western tower with crenellations (like battlements in castle) on top.
In 'Parochial Survey 1816', Rev. Thomas Handcock, Rector of Whitechurch, states that it was 'a good slated Roman Catholic chapel'. The altar was donated by James and Johanna Kennedy from Dunganstown. Major renovations were carried out on Ballykelly Church in recent years and the blessing of St. Mary's was held on 22nd June 2003 by Rev. Éamonn Walsh D.D. There was also a thatched church in nearby Dunganstown built around 1743 during the Penal Laws.
Bishop Sweetman visited the church in 1753 and Fr. James Nolan of New Ross preached a fine Irish sermon. There was only one candle for mass and so it was broken in two! Another church was in Oldcourt on the lands of the O'Hanlon's and the butt of it can be seen. David Sutton had a castle nearby around 1654 and the church is believed to have been a 'church of ease' for the Suttons. These Suttons were a branch of the Ballykerogue Suttons.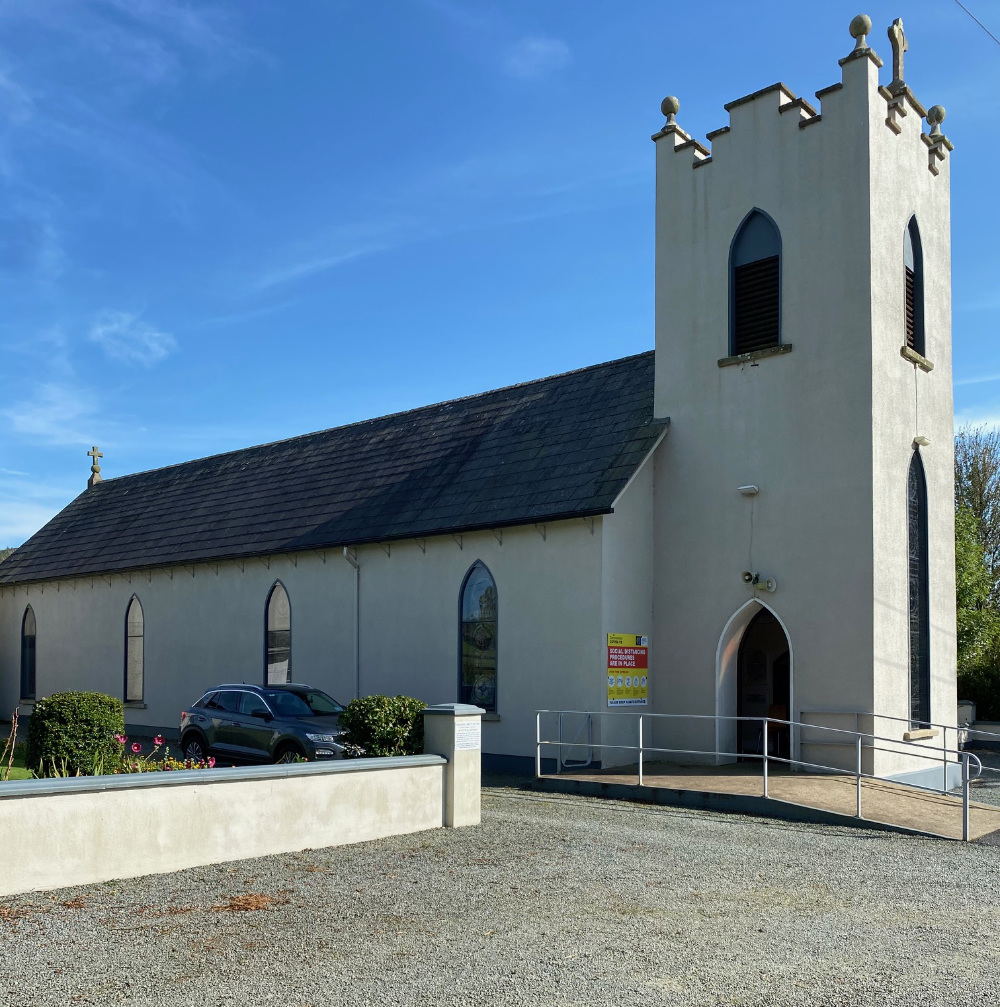 Ballykelly Church (above)

CHURCH OF IRELAND, WHITECHURCH
It is thought that St. Abban founded a monastery here in the 7th century. The present Protestant church is dated 1740 and is built on the site of an earlier one. Samuel Lewis writing in 1837 says 'the church is a plain building without either tower or spire.' These were added later. Service is held here on the second Sunday of each month.
The three memorials are:
1. A fine plaque with an urn on top is dedicated to John Glascott, died 1810, of Alderton
2. Memorial to Ann Drake died 1808, by John Drake and Urith Paul

3. John Drake died 1809, Ann and John Drake were brother and sister of Urith Paul. It was Urith who had a fine slated school built at Stokestown with apartments for the master and mistress. It cost 500 pounds to build. She also left money in her will for the aged and infirm
The school known as 'Todd's School' is now the home of the Saunders family, Camblin. The drakes lived in Stokestown House and also owned Stokestown Castle. 
Present day Kilmokea House was built as the Rectory for Whitechurch in 1794 by Rev. Cubit. It was known as a glebe house.